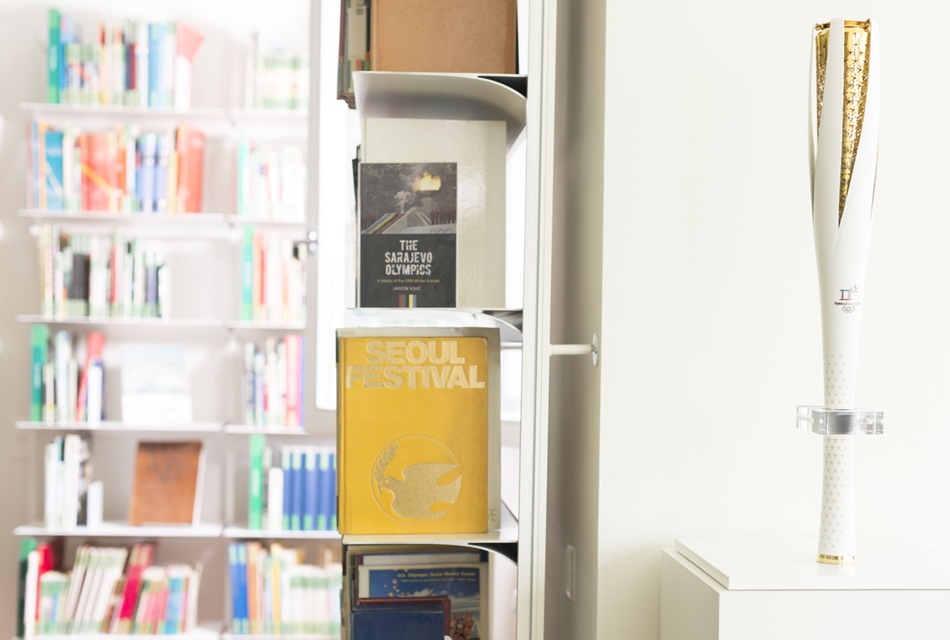 NEW ON THE SHELF
To keep up to date with what is added to our collection on a weekly basis, check out the "New Releases" section on the Olympic World Library homepage, where you can sign up for regular email alerts on all the latest publications available.
We also invite you to have a look at our Olympic Winter Games PyeongChang 2018 collection, which includes more than 500 titles published by the Organising Committee, almost 30 team booklets from the National Olympic Committees, and other interesting academic and IOC publications, such as the recently launched Marketing report: PyeongChang 2018. This broad collection, mainly in electronic format, is now available for you on the Olympic World Library.
THIS ISSUE'S HIGHLIGHTS
ioc Sustainability report: SHARING PROGRESS ON OUR 2020 OBJECTIVES
International Olympic Committee, 2018, 118 pages, in English.
Eighteen months after the publication of its Sustainability strategy, the IOC has released its first Sustainability Report. "The universality and global appeal of sport means that the IOC and the Olympic Movement have a special responsibility to promote a sustainable future for our world," said IOC President Thomas Bach. Published during the IOC's 133rd Session in Buenos Aires, this report shows substantial progress on the majority of the organisation's sustainability objectives for 2020 across its three "spheres of responsibility", as an organisation, as the owner of the Olympic Games and as the leader of the Olympic Movement.
Olympic Winter Games 2026: IOC working group report
International Olympic Committee, 2018, 227 pages, in English and French.
This report is a feasibility study of the potential candidatures for the Olympic and Paralympic Winter Games 2026. Based on this report, the IOC Session in Buenos Aires invited Calgary (Canada), Milan/Cortina d'Ampezzo (Italy) and Stockholm (Sweden) to become Candidate Cities for the Olympic Winter Games 2026. This decision by the IOC Session marked the beginning of the shortened formal Candidature Stage, in line with Olympic Agenda 2020/New Norm. The candidates will submit a single Candidature File in January 2019, as part of a streamlined process which reduces the cost and complexity for the cities.
ioc Annual Report 2017: CREDIBILITY, SUSTAINABILITY AND YOUTH
International Olympic Committee, 2018, 160 pages, in English and French.
The IOC's new annual report, which describes its activities over the past year, is now available. 2017 marked the half-way point in the implementation of Olympic Agenda 2020 and saw a number of landmark decisions. Highlights of the year included the double awarding of the Olympic Games to Paris and Los Angeles for 2024 and 2028 respectively, preparations for PyeongChang 2018, and the successful efforts to bring together athletes from the Democratic People's Republic of Korea and the Republic of Korea at the Games. It also saw initiatives surrounding the new Candidature Process intended to make the Olympic Games more sustainable and feasible.