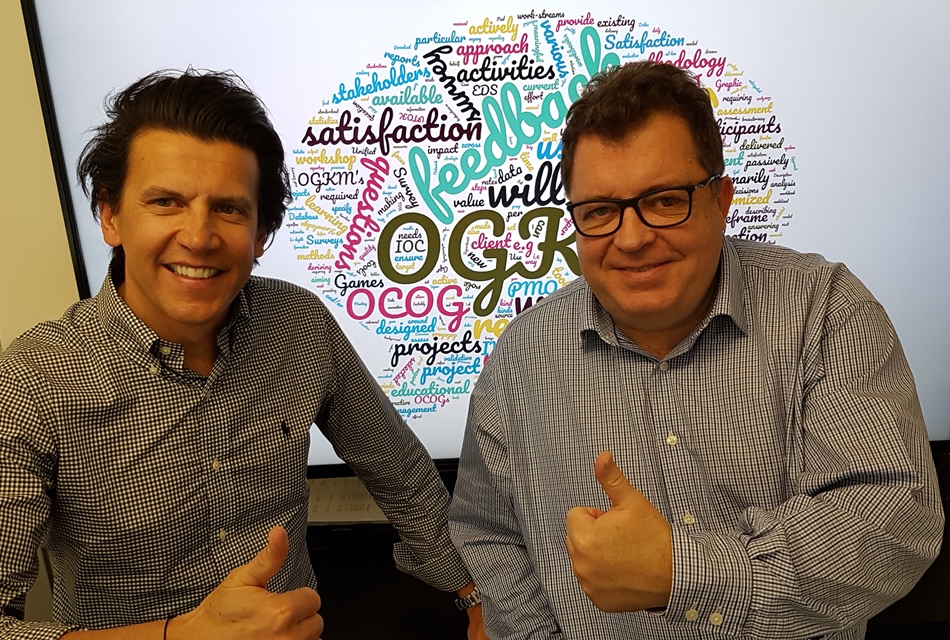 3 QUESTIONS ABOUT OLYMPIC GAMES KNOWLEDGE MANAGEMENT (OGKM)
We asked Christophe Dubi and Chris Payne for some insights into the OGKM programme and its future evolution. This programme aims to help future organisers learn from previous Games by translating practical operational experiences into tangible knowledge that can be used in the future.
The synergies and links between The Olympic Studies Centre (OSC) and OGKM are important, not only because of their common work on Olympic knowledge but also because of the interest of many researchers in the operational aspects of the Games.
What current evolutions will influence the future direction of OGKM?

Christophe Dubi: We are heavily focused on a number of new initiatives, notably the new "Games Management 2020" (GM2020) programme, which provides a crucial framework to enhance our management of the Games in support of Olympic Agenda 2020. A new Olympic Games Learning Model (OGLM) is a component of GM2020. It started in 2015 and can be seen as a long-term change programme to enhance our coaching and training efforts with Organising Committees for the Olympic Games (OCOGs) initially, but also with other stakeholders as it evolves.
The OGKM team is already implementing the first elements of OGLM with a view to full execution by 2021. The programme will help Games organisers and their associated stakeholders to maximise their own development as learning organisations, providing a framework to ensure high-quality mentorship, guidance, learning tools and facilitation. OGLM will progressively provide very valuable support to our efforts to manage the Games and ultimately help us achieve our shared goal. It deserves support!
How are you working with the next organisers of the Games in PyeongChang?

Christophe Dubi: The vast majority of the IOC's activities during the Games will concentrate on immediate operational processes and solving any problems on the ground, day-to-day.
Whilst everyone would agree that this is absolutely crucial, we also need people who, during the Games, measure and capture information; help future organisers to observe and experience in real time; and translate the lessons from meeting operational challenges into tangible knowledge that can be used in the future.
This is exactly what the OGKM team will do, in support of the functional areas. It is only through effective observation, measurement and evaluation that the evolution of the Games can be driven in the best way possible.
Chris Payne: It is worth emphasising that Rio 2016 was very productive for OGKM. Our counterparts were open, warm and keen to share their experiences – very much aligned with our vision of instilling passion for learning and sharing. The PyeongChang 2018 Organising Committee participated fully in Rio transfer of knowledge initiatives and this provided some useful impetus for them to move their own knowledge programmes forward. We have leveraged the work undertaken in Rio to prepare our PyeongChang Games-time activities.
The 2018 edition of the Observation and Experience Programme will mainly target Beijing 2022 to help them build on their existing knowledge from the Olympic Games Beijing 2008 and gain specific expertise necessary for the organisation of a Winter Games.
Various initiatives, including the Observer Programme, shadowing and secondments will support their evolution. In addition, the programme will include other OCOGs as well as the 2026 Candidate Cities.
Aligned with the objectives of Olympic Agenda 2020 to reduce the cost and complexity of the Games, the data capture project will once again focus on usage data for many key cost drivers at the venues. Planning is underway to use automated tools such as time-lapse cameras for the first time to capture information and provide quick analysis. Post-Games, the collected data will first be contextualised and then provided to future organisers to reduce the guesswork in assessing their Games needs for related resources.
Is it possible for researchers conducting specific academic projects related to the Olympic Games to request access to OGKM content?

Chris Payne: As mentioned before, the purpose of OGKM is to help Organising Committees in their preparation for the Games. We do this in a number of ways but one key aspect is the selection, organisation and structuring of a significant amount of content that identifies learning from previous Games experiences. We have been doing this since the Olympic Games Sydney 2000. In London, for example, we collected and curated 27,000 documents, 9,000 pictures and 300 videos.
We understand that this OGKM content can offer useful insights to researchers interested in the Olympic Games organisation and its impacts. We know as well that we can learn from academic research. Based on this, and in coordination with the OSC, we can in principle give access to our content if there is a solid research project behind the request that illustrates how this content would benefit the research. And, even more crucially, we must know that the intended research outcomes are relevant for us and our stakeholders. Requests should be addressed to the OSC team, who will assess the projects and needs as a first step, and, if appropriate, liaise with us to approve the access on a case-by-case basis.