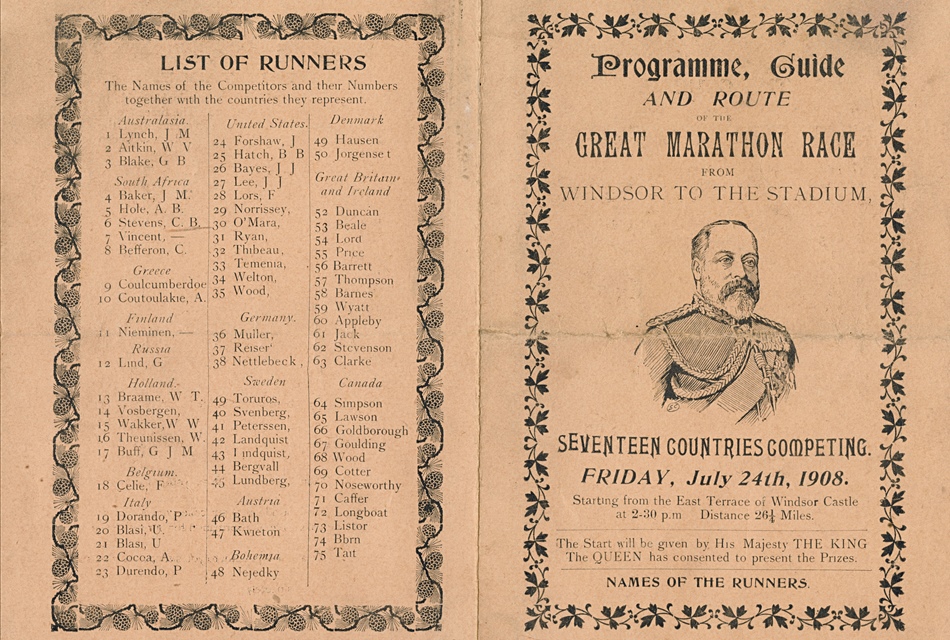 HIDDEN TREASURES
We're lucky to have some truly fascinating and valuable documents in our collections, including the programme for the 1908 Olympic marathon.
Up until 1908, the Olympic marathon had been contested at various distances ranging from 40 to 42 kilometres (25 to 26 miles). But for the 1908 Games in London, organisers were keen for the race to start on the East Lawn at Windsor Castle and finish in the White City Stadium directly in front of the Royal box. The distance was therefore set at exactly 42.195km (26 miles and 385 yards), which has since become the standard distance for marathons throughout the world.

As well as setting the standard for future marathons, the 1908 Olympic race also featured one of the most dramatic finishes in Olympic history. Italy's Dorando Pietri had entered the stadium in first place at the end of the marathon, but began heading in the wrong direction and collapsed, exhausted. As the officials helped him to his feet he collapsed again, before eventually being helped over the finish. While he was the first to cross the line, he was disqualified for receiving help, although his courageous efforts to finish the race ensure he is remembered to this day.

This fascinating programme describes the historic marathon route in detail, kilometre by kilometre, and provides a fascinating memento of one of the most memorable events in Olympic history.
Want to see these and other treasures from our collections?
Let us know – we'd be delighted to show them to you on your next visit to the OSC.